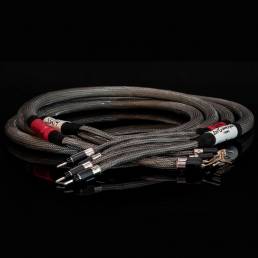 SSR-14 & SSR-11 Silver Ribbon Speaker Cable
Build your cable: please select from the options below
---
PRODUCT DETAILS & ORDERING
My cables are sold as a pair, you get 2 individual cables for the price shown. If you need a single or a triple or anything else no problem, please contact me.
My cables are sold with selectable connector options, that way you may choose from a selection of spades and bananas to fit your preference and budget. The connectors I offer are sold in sets of 4, you need 8 total for a pair of cables. This allows you to choose different connectors for the amp end and for the speaker end.
So to order:
1. Select which gauge model you need – SSR-14 or SSR-11
2. Select your cable length
3. Select your jacket option
4. Select your connectors for the speaker end (includes 4)
5. Select your connectors for the amplifier end (includes 4)
6. ADD to CART
Bi-Wire
If you want bi-wire cables – no problem, please contact me as there are many options and I want to make sure you're getting what you need.
CUSTOM CABLE SERVICE
Our cables designs have been developed over many years and thousands of hours of research, both lab testing and extensive listening. We firmly believe they are unsurpassed in quality and sonic performance. However we are sympathetic to the needs of hardened audiophiles, and we offer a be-spoke cables service to special order. This is limited to termination choices however. Please contact us for more details if you are interested in this service.